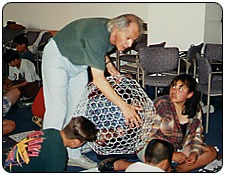 Webcasts
New ScienceLine activities for schools include video conferences between science classes and UCSB researchers as well as video streaming webcasts.
Video Conferencing
During the conference, students and scientists have an interactive question and answer session around a pre-determined topic.
Teachers interested in exploring a video-conferencing activity should phone the ScienceLine coordinator at (805) 893-7928 or e-mail us at scienceline@ucsb.edu. We will help you set up the connections!
Video Streaming
We started our first video streaming project in April 2001 and are planning more! A recording of the presentations will be posted on this web site.
Special Webcast
Nobel Laureate Sir Harry Kroto talks about the discovery of Buckyballs. This is a recording of a live video streaming webcast event on November 26, 2002, from the Corwin Pavilion at UCSB. Viewers included 5th and 6th graders from Isla Vista Elementary School in Santa Barbara, CA, students from El Camino Junior High School in Santa Maria and students from Kermit McKenzie Junior High School in Guadalupe, CA.

---
Download RealPlayer Software
To view a webcast online you need to have a copy of RealPlayer installed on your computer.
Click the icon below to download a copy of RealPlayer.

Note: The link for the Free Video Player is located in the middle of the page.
---
Copyright © 2020 The Regents of the University of California,
All Rights Reserved.
UCSB Terms of Use